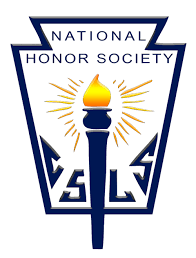 National Honor Society Pins Potential Inductees
The National Honor Society is an organization comprised of the top students in the junior and senior classes. Students must have a 3.5 unweighted GPA, not currently failing any classes, no discipline problems in the last calendar year, and a record of community service to be invited to join.
The NHS is a service organization, and as such, there are requirements to maintain membership. Students may be at risk if they do not keep their GPA to the above standard or if discipline becomes an issue. Members are required to pay a yearly fee of $25, attend meetings, and participate in service projects.
This school year, potential inductees will be pinned, or invited to apply, on Thursday, September 14, 2023.
ALL applications are due to be filled out and returned electronically NO LATER THAN 3:00 ON FRIDAY, SEPTEMBER 29, 2023. *NO APPLICATIONS, RECOMMENDATION FORMS, OR VERIFICATION OF SERVICE FORMS WILL BE ACCEPTED AFTER THIS TIME* This is FIRM.
THERE WILL BE NO EXCEPTIONS.

Contact:
Michelle Rigsby
Phone: (251) 221-3351
Email: cmrigsby@mcpss.com
Jessica Stinson
Phone: (251) 221-3351
Email: jstinson2@mcpss.com