PARKING PASS APPLICATION
Students who plan on driving to school for the 2020-2021 school year - YOUR PASS MUST BE VISIBLE IN YOUR CAR AT ALL TIMES!
Parking passes are $35 and will be sold following the schedule below:
Parking passes will continue to be sold on lunch waves through 10/23/20. After Friday, 10/23, students seeking to purchase a parking pass need to see Mr. Hardegree for an application. Once the application is completed, place it in the box outside Mr. Hardegree's office. He will call you in to complete the process.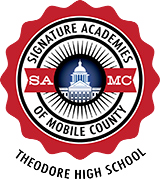 Theodore High School's academies are:
Academy of Industry and Engineering- Signature Academy
Academy of Arts and Humanities
Academy of Health Care and Dental Assisting
Academy of Marketing, Business, and Leadership
Academy of Bryant Career Tech Center
Theodore High School is accredited by the Southern Association of Colleges and Schools Council on Accreditation and School Improvement and the Commission on International and Trans-Regional Accreditation and, therefore, is entitled to all the services and privileges of regional, national, and international professional recognition.