MCPSS - CORONAVIRUS (COVID-19) UPDATES
HOTLINE: (251) 221-7777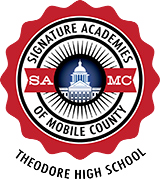 Theodore High School's academies are:
Academy of Industry and Engineering- Signature Academy
Academy of Arts and Humanities
Academy of Health Care and Dental Assisting
Academy of Marketing, Business, and Leadership
Academy of Bryant Career Tech Center
Need Transcripts? Click on the Parchment link below.

Theodore High School is accredited by the Southern Association of Colleges and Schools Council on Accreditation and School Improvement and the Commission on International and Trans-Regional Accreditation and, therefore, is entitled to all the services and privileges of regional, national, and international professional recognition.