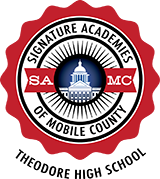 Lannah Campbell
251-221-3351 ext 71508
The academy model was designed to promote small learning environments that cater to specific student interests. The goal is to facilitate the exploration of college and career options while incorporating mentoring, job shadowing, internships, and other field experiences for students.
Academies promote a sense of belonging, allowing students to obtain certifications and credentials while in high school, and help our students become college and career ready by this new focus.
With the help of parents, administrators, and counselors, students will select an academy at the end of their freshman year. Students must take three sequential courses within an academy prior to graduation to be considered a completer. Many students will gain credentials and employment opportunities through the academies. Multiple pathways have been established in each academy to provide a variety of courses for students to complete their three-course sequence.
Theodore's Signature Academy is currently Industry and Engineering. The pathways for this academy are PLTW Engineering, and the Industrial pathway. In the industrial pathway, there are 13 programs from which to choose, and all classes are held at the Bryant Career Technical Center. Other academies include the Arts and Humanities Academy; the Marketing, Business, and Leadership Academy; and the Healthcare and Dental Academy. Theodore is the only high school in the state of Alabama to have a Dental academy complete with a state of the art dental lab.